Concept All on 4 Technique: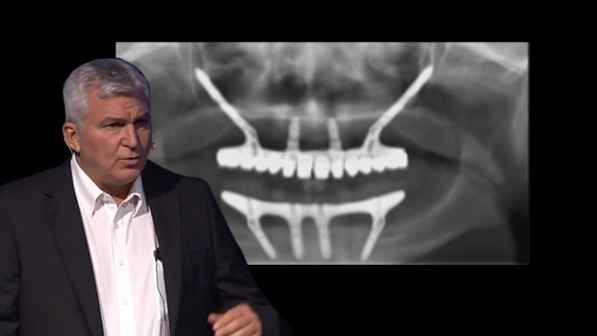 All­ on­ 4 treatment technique for complete rehabilitation of the edentulous (No teeth present in the jaw), is a surgical and prosthetic medical procedure which is fixed rehabilitation option with Dental Implants. All on 4 concept was developed in 1990's through studies funded by Nobel Biocare in collaboration with a Portuguese dentist Paulo Maló. This technique is rehabilitation in the edentulous maxilla and mandible with fixed prosthesis by placing 4 implants in the anterior maxilla( front upper jaw before sinus and mental foramen), where bone density is higher, allowing the highest success rate. The four implants support a fixed prosthesis with 12 to 14 teeth in each jaw and it is placed immediately on the day of surgery. All­on­ 4 is a registered trademark of Nobel Biocare. This technique is time tested and widely accepted in many parts of the world.
Nowadays this concept is copied by various implant companies at a cheaper and affordable prices. These companies which also give life time warranty on all on technique. 2.Procedure Description of all on 4 technique at The Dental Specialists, Hyderabad, India: All­ on ­4 treatment concept provides a permanent, screw­ retained and cement , same day replacement for the entire upper and lower teeth set. The procedure is best indicated for patients with major bone loss, tooth loss or decay. Tooth loss leads to jaw bone which poses the problem of reconstruction of the jaw bone. Conventional technique requires almost six to twelve months to restore the implants. Moreover we need to transplant bone from various other parts of the body like iliac crest or skull. Why 12 months is because we have to graft initially and wait for 3 to 6 months till the artificial or natural bone gets integrated. And achieve good bone density. Later we place implants and again wait for 3 to 6 months till the implants get osseointegrated. Many of the patients can not undergo transplantation of bone for general health reasons (diabetes and others). The All ­on 4 treatment concept, will address these drawbacks because it consists in establishing a fully customized denture (bridge) based only on four titanium Tall and Tilted implants. These implants act as "pillars" to the bridge that supports the prosthetic teeth. The invented process takes advantage of existing bone, even if scarce, avoiding having to use bone grafts. The posterior back implants are angled at approximately 45 degrees to avoid compromising the sinus cavity in the upper jaw and the nerve canal in the jaw.
Still have questions about Dental Implants? We'd love to talk with you. Don't hesitate to request an appointment online , over the phone or our website to contact us @thedentalspecialists.in
Book an appointment WhatsApp/ SMS/ Call: +91 9000021174/ 9959448800/ +91 9177671117
or whatsapp: https://wa.me/919000021174
For any further queries visit our website: www.thedentalspecialists.in